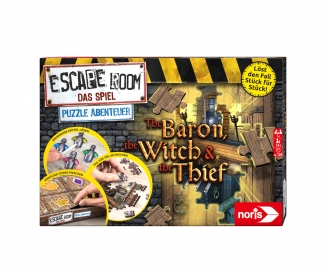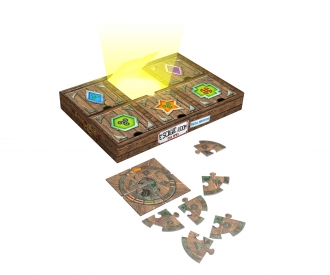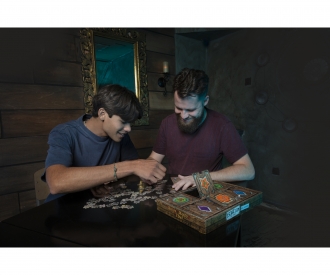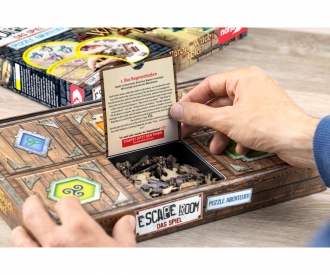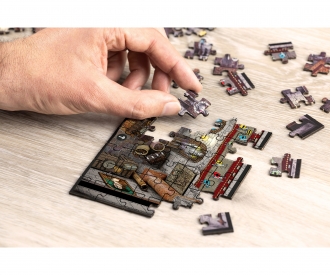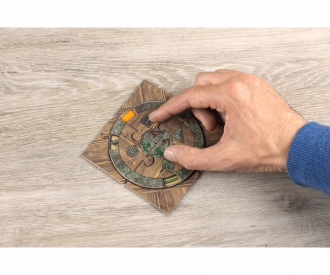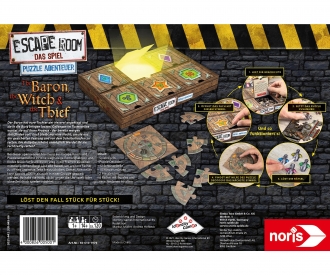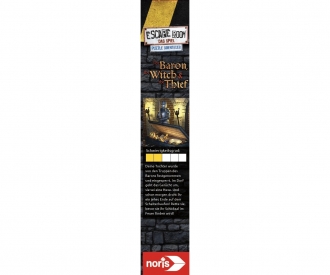 Escape Room Das Spiel Puzzle Abenteuer - The Baron, The Witch & The Thief
Article number: 606101976
Age recommendation: from 14 years
Quantity:
1
2
3
4
5
6
7
8
9
10
11
12
13
14
15
16
17
18
19
20
21
22
23
24
25
26
27
28
29
30
Delivery time 1-3 working days within Germany
Der Baron hat eure Tochter der Hexerei angeklagt und sie in die Burg bringen lassen. Gefangen im Turmverlies wartet sie auf ihren Prozess - der bereits morgen stattfi nden soll! Euch bleibt nur eine Nacht, um sie aus der gesicherten Festung und vor dem Scheiterhaufen zu retten. Die Aufgabe scheint unmöglich! Werdet ihr sie rechtzeitig retten?
Bei dieser spannenden Mischung aus Escape Room und Puzzle unternehmt ihr eine waghalsige Rettungsaktion und findet Stück für Stück euren Weg in die Freiheit aus einer mittelalterlichen Burg! Löst alle Rätsel, um weitere Fächer zu öff nen und neue Teile freizuschalten. Dieses Abenteuer kann sowohl alleine als auch in einer Gruppe gespielt
werden. Ihr habt die Wahl, ob ihr gegen die Uhr spielt oder ohne Zeitdruck spielen möchtet.
Das "Escape Room Das Spiel Puzzle Abenteuer - The Baron, The Witch & The Thief" ist ab 1 Spieler*in ab 14 Jahren geeignet und dauert ungefähr 120 Minuten.
Es wird kein Chrono Decoder aus den Grundspielen von Escape Room Das Spiel benötigt.

Warning! Not suitable for children under 3 years due to small parts. Choking hazard!
Spielregeln
Puzzle Decoder
12 Schlüsselteile
10 Hinweismünzen
2 Messleisten
6 Fächer mit Puzzles und verschiedenen Inhalten
Frequently bought together
Frequently bought together