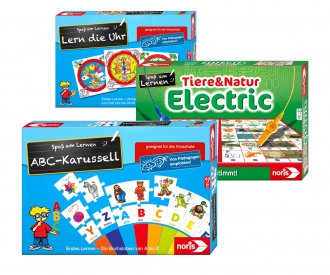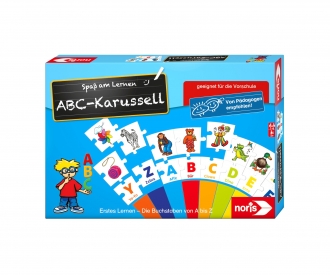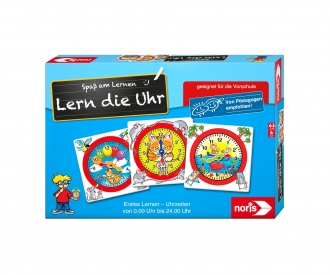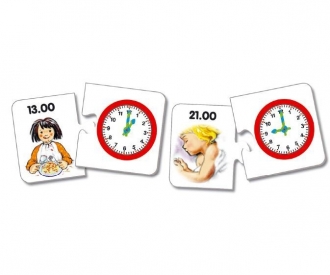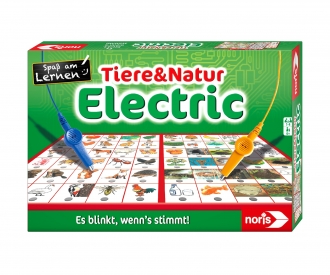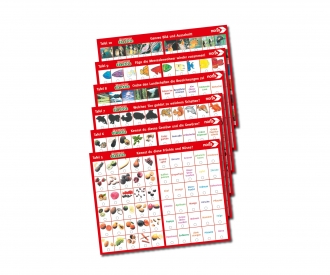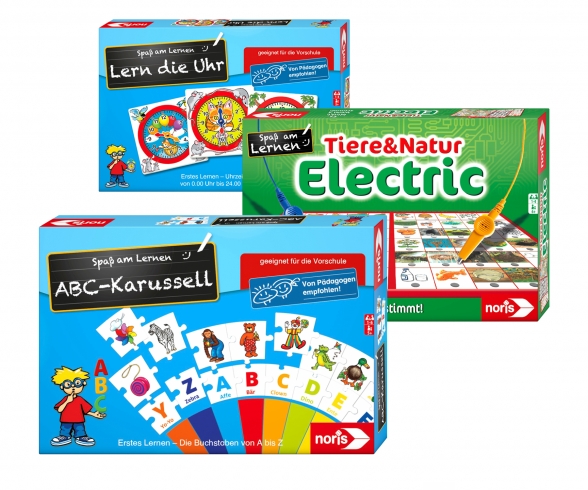 New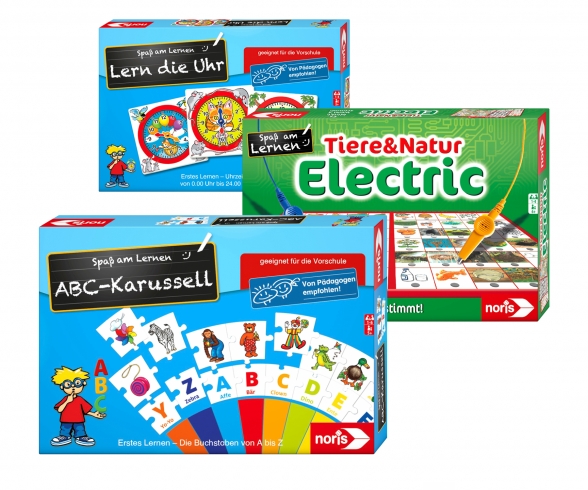 Quantity:
1
2
3
4
5
6
7
8
9
10
11
12
13
14
15
16
17
18
19
20
21
22
23
24
25
26
27
28
29
30
Delivery time 1-3 working days within Germany
Product bundles consisting of: ABC-carousel | Learn the clock | Electric Animal and Nature
Article number: 606076151
Product: ABC-carousel

Get on the ABC carousel!
"ABC Carousel" is an educational game recommended by educators that helps children learn about the 26 characters of our alphabet. Because these 26 characters make up many thousands of words that make our language so diverse. The better children understand letters and sounds, the easier it is for them to write correctly and form words.

The children's task in this game is to find the matching letter cards to the 32 picture cards. The puzzle cut and the colour of the letters help to match the cards correctly.
Article number: 606076152
Product: Learn the clock

Tick tock tick tock... time is short!
With the fun learning clocks, time flies by. The beautiful two-part puzzle pieces show typical events from everyday life to which the appropriate time must be assigned.
This way, children get a feeling for time and learn about the clock.

An educational game recommended by teachers that makes learning easier for children.
Article number: 606013722
Product: Electric Animal and Nature

What fits together?
Using the game board module and plugs, children can solve the different task cards independently. Because whoever taps the correct solutions on the learning boards is rewarded with the flashing of the indicator light.
The set includes 12 learning boards with comprehensive knowledge about nature and animals. The boards are illustrated with photos from nature and beautifully illustrated motifs.

This item requires 2 x 1.5 V R6 AA batteries. They are not included in the game.

Warning! Not suitable for children under 3 years due to small parts. Choking hazard!
Article number: 606076151
Product: ABC-carousel

Contens:
64 picture and letter cards
Game instructions
Article number: 606076152
Product: Learn the clock

Contens:
4 learning clocks with hands and clamps
36 puzzle pieces for 18 clock times
Game instructions with further illustrated clock times
which can be set
Article number: 606013722
Product: Electric Animal and Nature

Contens:
Game console with 2 x 30 contact surfaces and 2 buttons
12 picture boards with 720 pictures and motifs
Game instructions