Card games
The Noris card games invite you to play exciting games with family and friends. Get all the important information about our range by clicking here.
More
---
Sort by:
Top sellers
New
Price ascending
Price descending
Filter
---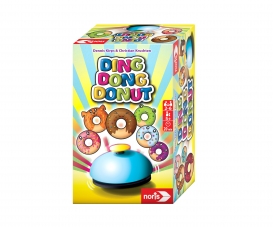 Card games
Ding Dong Donut
606061904
€11.99
Where's the matching donut? Ding Dong! In the action game "Ding Dong Donut", the players have to find matching donut halves and ring the bell in the middle of the table as quickly as possible. Each player reveals cards from their pile, which depict two different halves of a donut. The player with the most cards wins the game. For 2-6 players from 5 years of age. The game takes approximately 20 minutes to play.   Author: Dennis Kirps & Christian Kruchten
Card games – say goodbye to boredom
Quickly explained, extremely exciting and surprisingly versatile: it certainly has a reason that card games are among the best-known and most-played games of all. Noris has a wide range of varied card games for children that reliably banish boredom.
What is a card game?
The card game genre enjoys great popularity worldwide and has spawned numerous hit games that are still popular today. In principle, a card game is simply a game based on playing cards. Some products are also based on a playing field or include dice, but the majority rely entirely on cards.
Card games are fun for rainy days at home or on the road
What is the secret of success of card games for children? The appeal of the games is certainly due to their flexibility of use. Most games of this kind are comparatively handy and can be taken along on trips to save space. In addition, most of them are easy to explain, can be set up quickly and do not require plenty of accessories. Direct access to the game is guaranteed!
From what age are card games suitable for children?
Thanks to the large selection of games with cards, there is the perfect product for almost every age. Even the youngest children can be introduced to simple card games without numbers from the age of about three. Games for three and four-year-olds often contain catchy (animal) motifs and colours, are limited to a few rules and are particularly entertaining. For support, toddlers can use a cardholder when playing, if necessary.
For preschool children, more elaborate card games with clear rules and a maximum playing time of 30 minutes are suitable. Ideal games include knowledge games that prepare children for school with arithmetic and language components.
Children of primary school age enjoy card games that require strategic and logical thinking. They can understand more complex rules and can concentrate over several rounds of play. Card games that are played in teams and thus specifically promote social skills are also interesting at this age.
Really elaborate, comparatively complicated games, where a game can easily take an hour, are primarily aimed at children from the age of nine. In terms of content, games for children of this age may cover all areas of ability – from reaction speed, social skills and concentration to dexterity and logic.
What do card games bring to the table?
They are considered a meaningful activity and promise lots of fun – but what else do card games for children have to offer? You should pay attention to the following advantages:
Language promotion
Many of the games work with certain linguistic elements, such as words and sentences that have to be said at the right moment. These products promote your child's language skills in a playful way.
Promoting social interaction
Only a few card games are solo games. The majority of card games are played in pairs or with several players. This means that the game involves all kinds of interpersonal interaction, from which your child naturally benefits.
Promotion of emotion processing
Is your child thrilled about a victory, bitterly disappointed about a defeat, or can hardly bear the tension before the final move? Dealing with one's own emotional world is very beneficial for child development.
Promoting concentration and reaction time
To win a card game, your child has to be on its toes. They have to concentrate hard and, depending on the game, react as fast as lightning. Accordingly, playing has a positive effect on concentration and reaction speed.
Promoting literacy and numeracy
Reading and arithmetic are two areas of competence that become an issue when a child starts school at the latest. Therefore, there are wonderful card games that feature linguistic and arithmetic elements – for a successful interplay of fun and learning.
Promotion of general knowledge
Card games with a quiz character can raise your child's general knowledge to the next level. By picking up and repeating knowledgeable content as part of the game, your child acquires facts and background knowledge without having to sit down specifically to learn.
Suitable for everyday use and flexible
A big plus of the card games is their suitability for everyday use. Due to their small size, they fit into any pocket and can be taken along and used at will.
Developing an understanding of rules
Every game comes with one or two rules. Card games for children are no exception. Your child can learn to understand and follow rules and get used to following a set of rules in a playful way.
What should you look for when buying card games?
To ensure that the card game you choose fits your ideas and wishes as well as possible, you should consider these aspects when buying:
Number of players, duration and set-up time
An important consideration: How many players should play, how long can a round last, and is a more elaborate set-up conceivable for you?
Accessories
Find out about any accessories available for your favourite game. Furthermore, look at the scope of delivery as "extras" are not necessarily included.
Age recommendation
What age group is the game intended for? This is what the age recommendation of the manufacturer tells you. Keep in mind that some card games can also be mastered by younger kids with the support of an adult.
Simple, clear set of rules
The best card games are characterised by a simple, clearly understandable set of rules. Here, too, you should consider the age of your child. The older the child, the more complex the rules can be.
Themes suitable for children
Of course, the content of the game should be appropriate for children. In other words, all the themes of the game should be appropriate for the age of your child.
Discover the diverse card games from Noris
The Noris range in the card games category includes all kinds of high-quality and durable games that stand out from the crowd with refreshing game ideas. In the following, we will briefly go into selected Noris card games:
Ding Dong Donut
Ding Dong Donut is a fast-paced card game where players try to spot the matching donut halves on their cards and ring the bell as quickly as possible. It's a colourful, fun game for kids aged five and up. Are you fast enough to collect the most cards?
Small fish
Lots and lots of small fish! This entertaining game for the whole family is all about fishing. Speed paired with a little luck will help you to win – but watch out that the fish don't get away again!
Conclusion: Card games: Learning and laughing together through play
Whether to break up a long drive, on holiday or at a games evening: a good card game is a must. Noris offers you a gigantic selection of high-quality, original and popular card games with detailed, cheerful designs. We are happy to let you look at our cards: The majority of our games are manufactured in Germany in an environmentally conscious manner and undergo an external quality inspection that guarantees first-class quality. So you get a card game with which you don't have to make any compromises in terms of durability, sustainability and high quality.
Looking for more game inspiration? Then have a look at our homepage and get to know a wide variety of games, including puzzles, classic games and educational games.