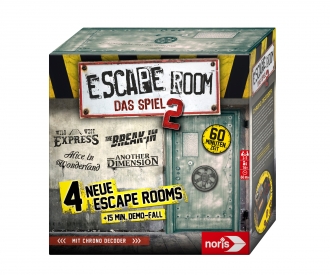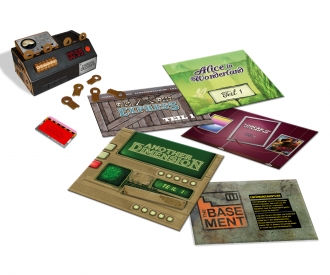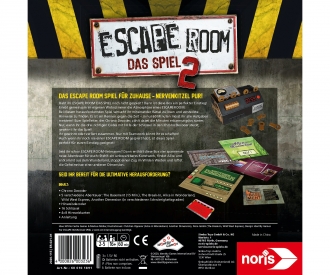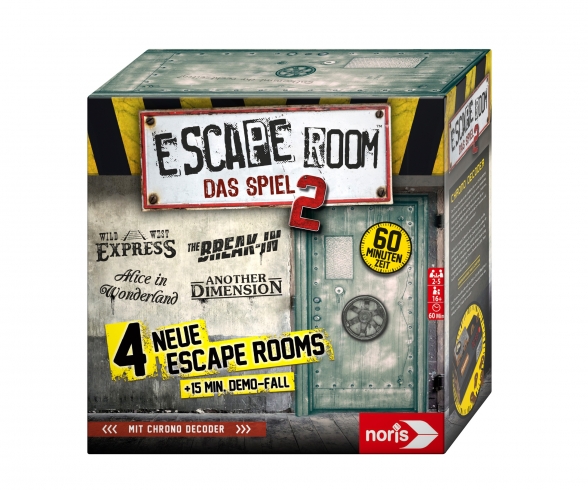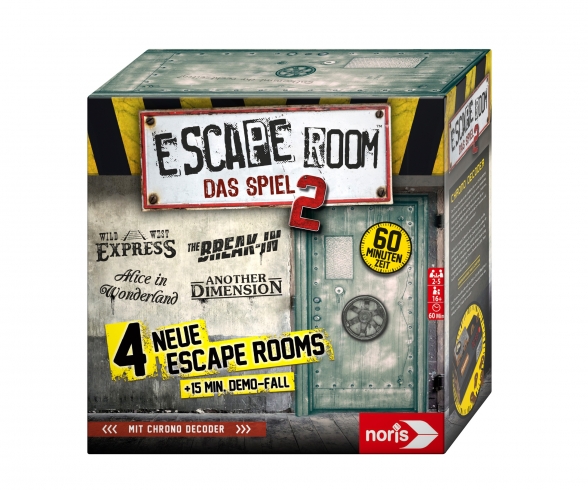 Quantity:
1
2
3
4
5
6
7
8
9
10
11
12
13
14
15
16
17
18
19
20
21
22
23
24
25
26
27
28
29
30
Delivery time 1-3 working days within Germany
Habt ihr ESCAPE ROOM DAS SPIEL noch nicht gespielt? Dann ist diese Box ein perfekter Einstieg! Erlebt gemeinsam im eigenen Wohnzimmer die Atmosphäre eines ESCAPE ROOM.
Bei diesem herausfordernden Spiel versucht ihr miteinander Rätsel zu lösen und versteckte Hinweise zu finden. Es ist ein Rennen gegen die Zeit – in nur 60 Minuten müsst ihr alle Aufgaben meistern! Euer Spielleiter – der Chrono Decoder – zählt dabei die Minuten erbarmungslos runter! Nur, wenn ihr die drei richtigen Codes mit Hilfe der Schlüssel in den Chrono Decoder steckt, gewinnt ihr das Spiel!
Ihr gewinnt oder verliert zusammen. Nur mit Teamwork könnt ihr es schaffen! Habt ihr noch nie einen ESCAPE ROOM gespielt? Kein Problem – dann ist dieses Spiel perfekt für euren Einstieg geeignet!
Seid ihr schon ESCAPE ROOM-Veteranen? Dann enthält diese Box vier spannende neue Abenteuer für euch: Stehlt ein unbezahlbares Kunstwerk, findet Alice und entkommt aus dem Wunderland, stoppt einen Zug im Wilden Westen und lüftet die Geheimnisse in einer anderen Dimension.
..........................................................................................................................................................................
The Break-In
Heute Nacht ist es endlich soweit! Lange habt ihr euch auf euren Einbruch in das Lockholm Museum vorbereitet. Das Ziel? Ein unbezahlbares Kunstwerk der berühmten Künstlerin Esa Cape. Stehlt die Skulptur, versteckt euch vor den Wachen und entkommt ungesehen wieder aus dem Museum, bevor ihr erwischt werdet!
Alice in Wonderland
"Ich komme zu spat!", ruft ein weißer Hase, während er auf eine Uhr sieht. "Die Teeparty beginnt bald!"
Ein sprechender Hase? Ihr seht nicht richtig! Er hoppelt in ein kleines Loch, und ihr folgt ihm hinterher. Als ihr in einem Raum mit einem riesigen Tisch landet, wird euch klar: hier irgendwo ist der Zugang ins Wunderland! Entkommt in einer Stunde, oder bleibt für immer hier!
Wild West Express
Während einer gemütlichen Zugfahrt nach Escapetown wird der Zug von Banditen überfallen. Sie haben die Lok übernommen und wollen den Zug in einer Stunde in einen Abgrund steuern. Das würde ein böses Ende nehmen…
Überwältigt die Banditen, übernehmt die Kontrolle über die Lokomotive und stoppt den Zug, bevor er den Abgrund erreicht!
Another Dimension
Seit mehreren Monaten passieren komische Dinge in Lockholm. Ihr seid in die nahe Militärbasis eingebrochen um den mysteriösen Ereignissen auf die Spur zu kommen. Doch was ihr dort vorfindet, könnt ihr kaum glauben… hier gibt es ein Portal in eine andere Dimension! Wer wagt sich zu einer besonderen Begegnung?
Autor: White Castle Games & Markus Müller

Warning! Not suitable for children under 3 years due to small parts. Choking hazard!
Chrono Decoder
Hinweisdecoder
16 Schlüssel
4 Abenteuer
4 x 8 Hinweiskarten
Frequently bought together
Frequently bought together